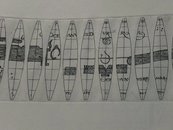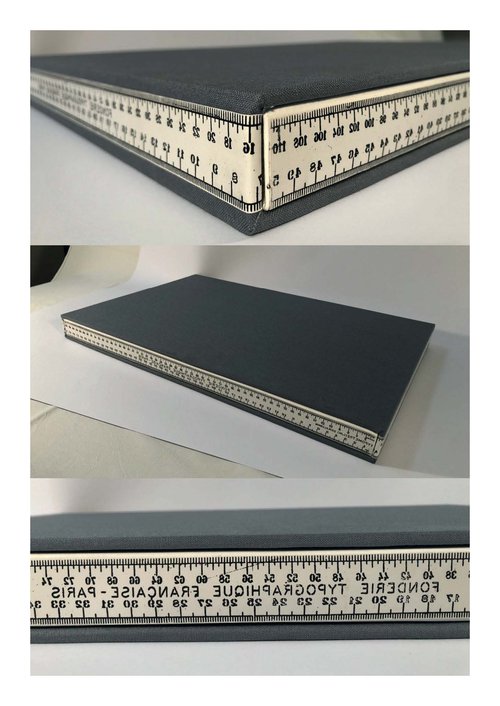 Folio: 50 x 33 cm 108 pages 51 eaux fortes originals by Didier Mutel Housed in a cloth covered box, with serigraph borders Edition limited to 54 copies, printed on velin d'Arches 160 grams
Folded wrappers, unsewn, with an etching Half-title, serigraph Title page, serigraph 24 engraved plates, southern hemisphere; engraved equatorial band; and Acid Air lines stamp 24 engraved plates, northern hemisphere colophon, serigraph
This book is presented in a jacket on which is printed in a circular etching "ACID AIR LINES". This emblem is the stamp of the company, previously employed to authenticate the plates in "The True Tales of Capt Acid". Acid Air Lines is the airline created by Didier Mutel, which offers voyages into artistic creations. It is this company that inaugurates this atlas.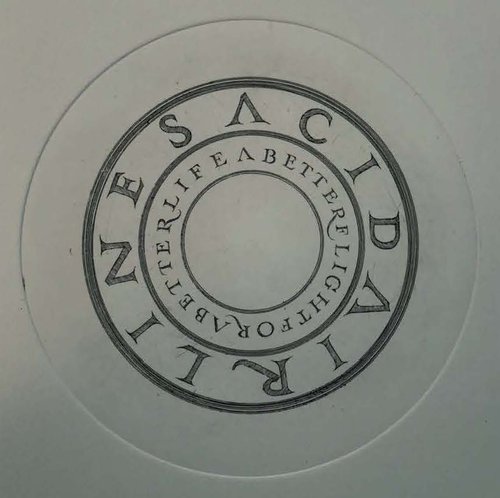 THE 7 SEAS OF CAPT ACID is «une invitation au voyage». The geography described is the same as that previously presented in "the first atlas of the united states of Acid» and in "Pierre de Rosette [The Rosetta Stone]". This geography is the realm of art and artists.
This atlas comprises 48 plates, representing globe gores intended to form a terrestrial globe.
"Initially, globes were solid spheres made by hand in various materials such as marble, glass, wood or metal. Subsequently, hollow spheres will be produced from thin sheets of metal, including copper. Obviously such copies are unique. The appearance of the printing press in the middle of the 15th century made it possible to multiply the manufacture of globes at a lower price and in limited series. Globes are then made of gores engraved on wood or copper, then printed on paper, cut out and finally glued on spheres."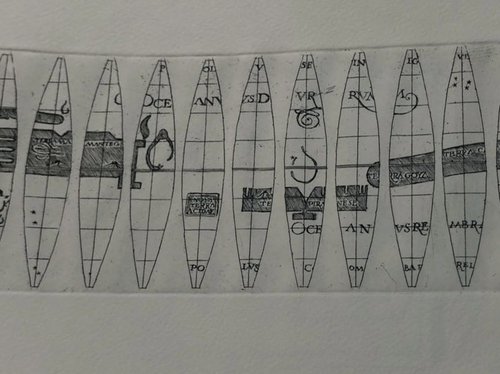 The Full Prospectus: 7 seas of capt acid.pdf
In this world, the oceans bear the names of Dürer, Rembrandt, Callot, Meryon, Lallier etc… the X-Men of the world of engraving according to Didier Mutel. This globe does not exist, it is an object of the imagination. We see the world bit by bit, without having a global vision. Along the borders, there are names, engraved on the spot, and therefore printed upside down. They are like mysterious cities. If we look at them in the mirror, we will then see that these cities are in fact names of colors: apricot, midnight blue, violet, orange, vermilion, etc. ree volcanoes: volcano burinis, volcano aquafortis, volcano punta secca designate the main engraving techniques used.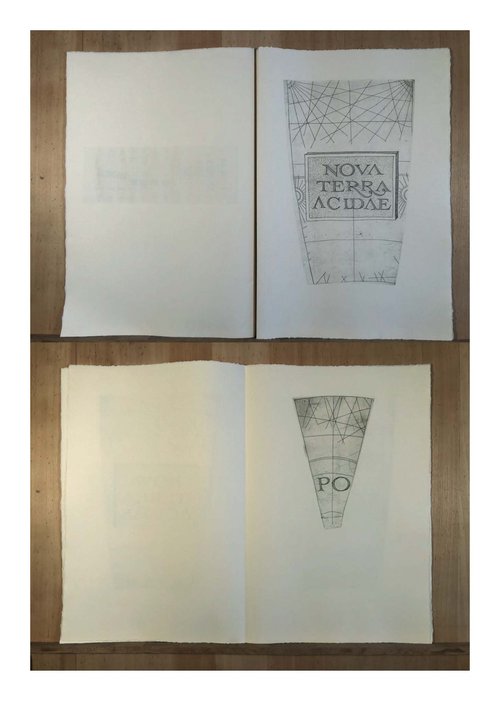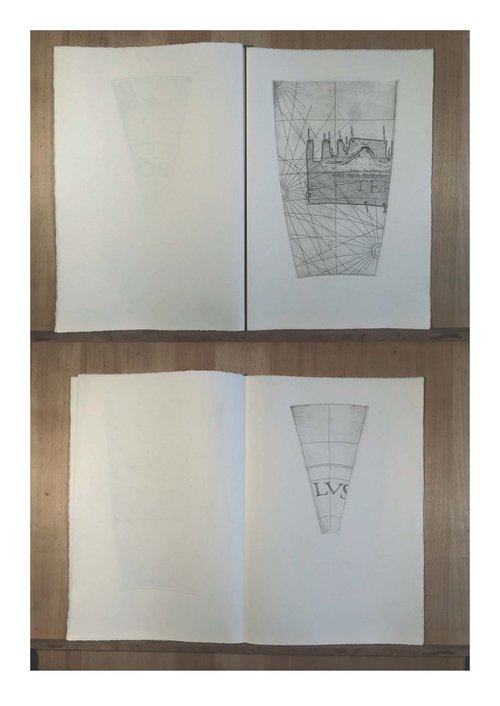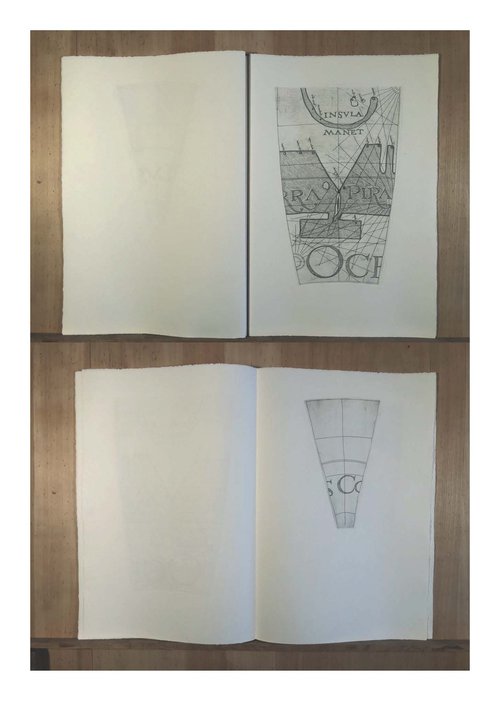 The book is introduced by a small plate, which presents all the time zones as presented in this project. The plate provides a model of the larger composition behind this work. Further, the individual globe gores that make up this work can be presented on a wall in an installation of 2 meters by 4 meters—as illustrated below.
The shape of this world, the continents, the islands, the archipelagos have the shape of the studio's pictogram, the corrosive pictogram, a drop of acid which falls on the metal plate and will create the hollow which will retain the ink. This sign is the metaphor of creation. In the "Seven Skies of the Apocalypse", we also find these pictograms, above the angels. And this drop of acid that falls is, in this work, gilded with gold; gold representing inalterability, that which remains: art.



Below: the individual globe gores cut and mounted on corian.