The Theater Archive of James McMullan is an extensive and comprehensive collection of McMullan's career as Principal Poster Artist for New York's Lincoln Center Theater.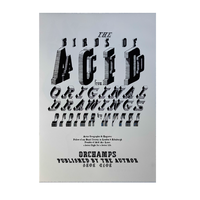 The Birds of Acid is a response to John J. Audubon's extraordinary Birds of America. In this work Didier Mutel reinterprets, in his own way, this monument in the history of engraving and printmaking.
Atelier Didier Mutel

Didier Mutel is an engraver, book artist, and director of Atelier Didier Mutel, the oldest continuously operating engraving studio in France, established in 1793 by Jean-Charles Rémond.