La Pierre Rosette [The Rosetta Stone].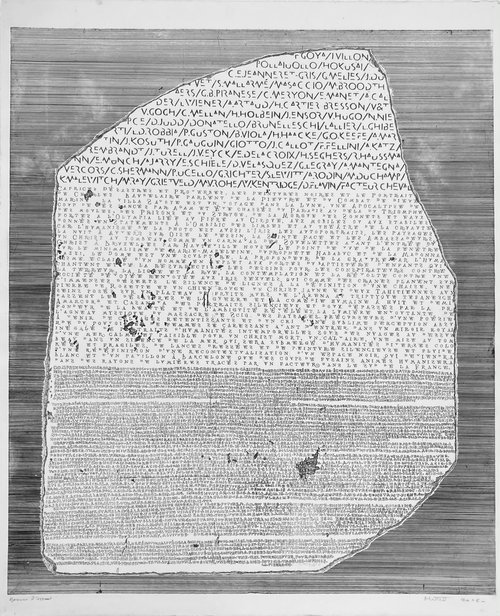 La Pierre Rosette. Orchamps: Atelier Didier Mutel, (2015).
Broadside (108 x 87.5 cm). Eau forte etching on copper, printed in black on Arches paper. An edition of 50 copies, plus one copy on Japanese paper adhered to a translucent slab, mounted on an oak pedestal.
Mutel's Rosetta Stone is printed at a 1:1 scale with its ancient precursor and contains three original alphabets designed by Mutel—which the artist has described as "a typographic transposition, or pastiche of letterforms." Within the text, Mutel further develops and pursues his theme of acide, the substance which literally draws or etches the copper plate, also carries a metaphorical essence, partly alchemical, partly poetic, but entirely creative.
Mutel's three new letterforms encourage discovery in the same spirit as the ancient Rosetta Stone: by studying each section in context to the other two sections, a greater total meaning emerges. The sections are arranged from top to bottom as follows: first, the names of Mutel's pantheon of artists, engravers, poets, photographers, architects, etc.; second, titles of artworks by the creators from the previous section; and third, Mutel's spontaneous prose poem, a testimonial for acid etching, for the artistic expression manifest in the two previous sections, and a kind of chant, half in French and half in English.