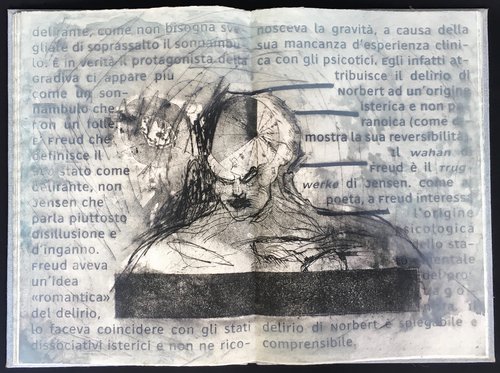 La Gradiva.
Didier Mutel and Andrea Dotti (1938-2007).
[Rome]: [Didier Mutel], 1999. First Edition.
(56 x 38 cm) 46 pp. First edition of an original text in Italian by Andrea Dotti and 21 original double-page engravings by Didier Mutel published in 1999 at l'Académie de France, Villa Médicis in Rome. The entire text was photoengraved and reworked with aquatint engraving and drypoint etching on copper, then printed as large two-page spreads from a single plate, by Didier Mutel on the press of the Villa Médicis in Rome on 160 gram Velin d'Arches paper, in an edition of 30 copies signed and numbered by Mutel. Bound in rough toile de jute, painted grey blue.
Mutel's work takes its name from Wilhelm Jensen's 1903, novella, Gradiva: A Pompeiian Fancy [Gradiva: ein pompejanisches Phantasiestück], in which the protagonist, Norbert Hanold, a young archeologist, is so fascinated with an ancient Roman bas relief sculpture[1] of a walking woman that he has a plaster-cast copy made for his own study, which he names Gradiva, "the woman splendid in walking." So captivated is Norbert by the figure that he is driven to visit Pompeii in search of her origins. Jensen's dreamlike tale juxtaposes Norbert's deepest intellectual and psychological preoccupations with considerations of art, antiquity, desire, dream, and reality. The original novella has endured in part due to the interest of Sigmund Freud, who made Gradiva the subject of full-length psychoanalytical and literary study, Der Wahn und die Träume in W. Jensens Gradiva [Delusion and Dreams in W. Jensen's Gradiva] (1907).
[1] The sculpture exists and is held by the Vatican Museum Chiaramonti, Rome, and is now known as Gradiva.
In Gradiva Mutel once again engages his viewers and readers on multiple levels: reinterpretation of classical literary works and traditions—as seen in his famous (and out-of-print) editions of the Alice books and Jekyll and Hyde—, psychological inquiry into alternate identities and realities, and of course the art of acid engraving and etching, which in La Gradiva is powerfully and expertly expressed.
This book marks the first time Mutel collaborated with a living author, Andrea Dotti, a well known Italian psychiatrist, whose essay for this edition is presented in its Italian original; the text has not otherwise been translated or reprinted. Dotti makes his own analysis of Jensen and Freud as well as "the woman who walks", i.e., Gradiva. Integrated within the text are Mutel's fantastical engraved images, which themselves serve as psychological interpretations that cross the border between dream and nightmare. A fine copy.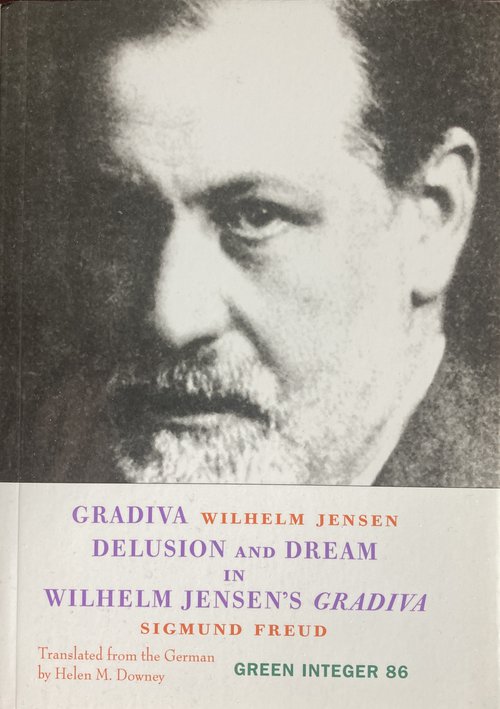 Included: Jensen's original text in English translation, and Freud's essay analyzing Gradiva.