18th century English poetry sammelband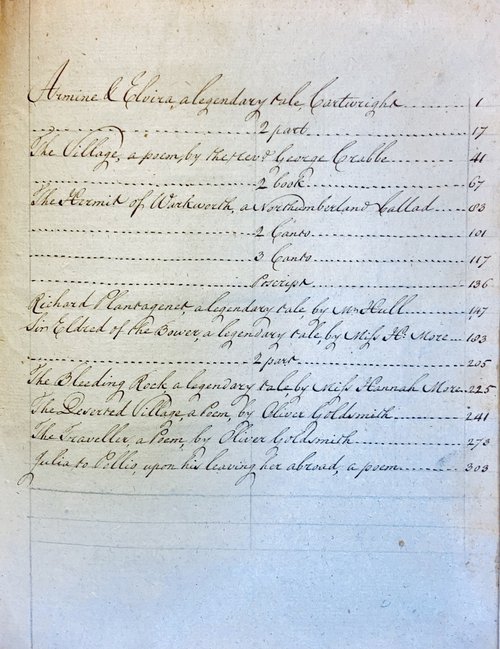 Cartwright, Edmund ; George Crabbe, Oliver Goldsmith, Thomas Hull, Hannah More, George Nelthorpe, Thomas Percy.
A volume of eight quarto poems carefully bound together (1770-1783) in contemporary half calf over marbled paper boards, with 'Poems' stamped in gilt on the spine. Manuscript contents and title index in contemporary hand at the back, latter manuscript table at the front, and manuscript page numbers. The boards slightly scuffed, edges rubbed, but a very solid volume, internally fresh with large margins.
4°: 1-334 pp. paginated in the same manuscript hand as that of the table of contents.
An attractive collection of well-received English poems of the eighteenth century, including Nelthorpe's rare Julia to Pollio (1770). The inclusion of the latter scarce poem among canonical works by More and Goldsmith gives the volume an attractive appeal, documenting the variety of works read by 18th-century readers.
(i) Cartwright, Edmund (1743-1823). Armine and Elvira, a legendary tale, London 1777, the sixth edition, bound without the half-title, pp. 40 (ESTC t133058).
(ii) Crabbe, George (1754-1832). The Village, London 1783. FIRST EDITION, pp. [iv], 38, with the half- title (ESTC t481).
(iii) Percy, Thomas (1729-1811). The Hermit of Warkworth, a Northumberland ballad, in three fits or cantos, 1782, 'a new edition with additions', pp. [viii], 56, with the half-title (ESTC n17616).
(iv) Hull, Thomas (1728-1808). Richard Plantagenet: a legendary tale, London 1774, with the half-title which reads 'the fourth edition, corrected and enlarged', pp. [ii], iv, 30 (ESTC t171169, at Birmingham and NLS only).
(v) More, Hannah (1745-1833). Sir Eldred of the Bower, and the Bleeding Rock: two legendary tales. London: printed for T. Cadell, in the Strand. 1776. FIRST EDITION. 4to, pp. [vi], 49, [1]. This copy has the catchword on p. 27 correctly printed as "When".
(vi) Goldsmith, Oliver (1728-1774). The Deserted Village, London 1783, tenth edition, pp. vii, [i], 23, [1], with the half-title (ESTC t146054); Roscoe A191 (3).
(vii) Goldsmith, Oliver (1728-1774). The Traveller, a poem, London 1778, tenth edition, pp. 31, [1], with the half-title, title-page engraved (ESTC t146166); Roscoe A199 (15). ESTC t48321.
(viii) [Nelthorpe, George], the scarce poem, Julia to Pollio. Upon his leaving her abroad. Written some years ago and now first publish'd from the original manuscript, London 1770, pp. 32 (ESTC t125902, lists only 8 copies, and none west of Chicago).