Tatjana Bergelt
About
TATJANA BERGELT is an artist of German-Russian origin based in Helsinki, Finland. She started her studies in 1985 at the University of Art and Design in Halle Burg Giebichenstein, Germany, was one year an exchange student at the Academy of Fine Arts in Tallinn, Estonia and the University of Barcelona, continued her studies at the Ecole Nationale Superieure de s Beaux Arts à Paris, where she got her Masters (1996) of Fine Arts with excellency by all jury members, parallel to the Masters of Burg Giebichenstein, Germany (1995). In 1996 she settled in her home town Berlin. 1998 she was invited to teach painting, lithography and artists' books at the Minneapolis College of Art and Design, MN. Her work ranges from paintings, collages, photo collages to stone prints and artists' books. It has been widely exhibited across Europe and in the United States, and collected by the national libraries of Germany, France, Luxemburg, Finland, the New York Public Library and others. In 2018 Bergelt was in residency at the Institutum Romanum, Finlandae, in Rome and created 2 books during that period. She recently exhibited at Codex VII (2019) where she was an invited lecturer. At the moment she is a recipient of a Fellowship by the Kone Foundation, Finland and co tines to work on new interdisciplinary projects.
---
Available Items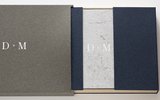 Edition of 13 signed & numbered copies. 28 x 37 cm (slipcase); 25 x 36 cm (book). 26 leaves. Begun in Rome (Italy), 2018; Helsinki (Finland); and Weimar (Germany), completed November 2020.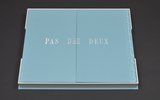 Published: 2022
CODEX Price: $3,522
Vladimir Nabokov and the Polyommatus Blues Butterflies: a dance for two.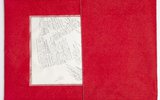 Lithography printed on Japanese paper: a collaboration between Tatjana Bergelt and Belgian writer Marcel Moreau.