Tatjana Bergelt
About
Tatjana Bergelt is a visual artist and book artist, born in East Berlin, educated in Germany and France, but now calls Finland her family home. Bergelt's work reflects her multinational and multilingual existence. Her rigorous training combined with extensive research of existential concerns, allows her to explore linguistic metaphors in relation to history in her collages and artists' books. She has also curated numerous artist's book exhibitions for Finnish artists within European countries.
---
Available Items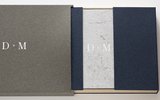 Edition of 13 signed & numbered copies. 28 x 37 cm (slipcase); 25 x 36 cm (book). 26 leaves. Begun in Rome (Italy), 2018; Helsinki (Finland); and Weimar (Germany), completed November 2020.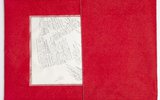 Lithography printed on Japanese paper: a collaboration between Tatjana Bergelt and Belgian writer Marcel Moreau.