Major architectural works of the 16th cen. with contemporary manuscript restorations
VITRUVE [Vitruvius]. Architecture ou Art de bien bastir, de Marc Vitruve Pollion autheur romain antique: mis de latin en françoys, par Jan Martin secretaire de Monseigneur le cardinal de Lenoncourt. Pour le roy très chrestien Henry II.
Paris, Jacques Gazeau, 1547.
2°: πA4, A-E6 F6 (F4+1) G-2C6, 2A-D6 ; 184 leaves: [4], 155, [1], [33]. Contemporary brown calf, six raised bands on the spine ornamented in gilt, double gilt rules framing the boards. A near fine copy.
Bound with:
SERLIO (Sebastiano). Quinto libro d'architettura di Sabastiano Serlio Bolognese, nel quale se tratta de diverse forme de tempii sacri secondo il costume christiano, et al modo antico. A la serenissima Regina di Navarra. Traduict en Francois par Jan Martin, Secretaire de Monseigneur le Reverendissime Cardinal de Lenoncourt.
Paris, de l'imprimerie de Conrad Badius, 1547.
2°: A-E6 F4 (-F4 blank); 34 leaves: [1] 2-33 [34].
Full description: Vitruve-Serlio-1547.pdf
In the Vitruvius, the top portion of leaf 33 (F3) and all of leaf 34 (F4) were damaged and lost, likely during production, but have been replaced here by a very precise and faithful copy of the missing text and architectural drawing that could only have been made through the close examination of another copy from the same edition. Examination of the handwriting and other evidence shows that the reproductions were done in the 16th century, shortly after the publication of the work.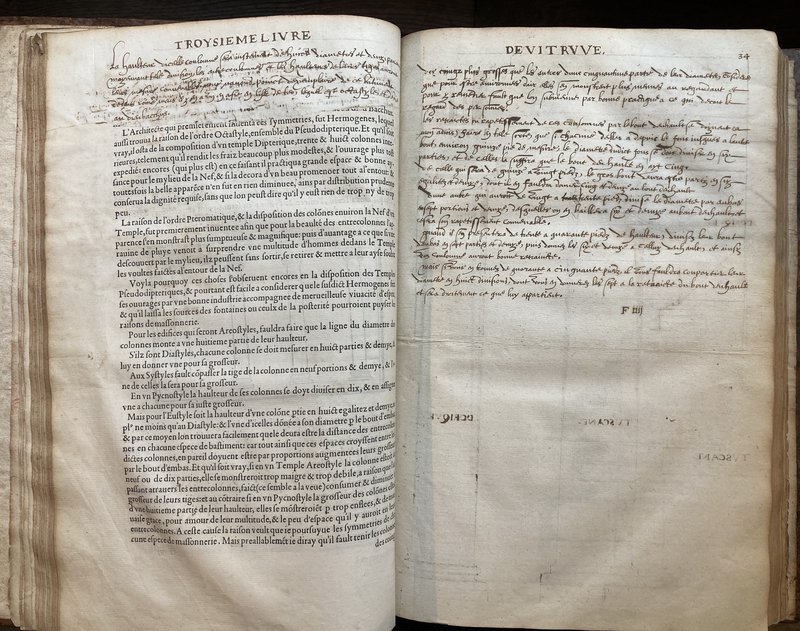 It is important to note, that the value of an illustrated folio would have made it essential to replace the missing content, whether by a reader or the printer, but when one considers the carefulness of the restoration, the precise textual transcription, and the exacting quality of the architectural drawing, this copy must have been prepared by (or for) a scholar who required a fully faithful copy of the book.
The original F signature comprised a 6-leaf gathering with an extra leaf of illustrations pasted to the fore edge of leaf 5, creating a folding leaf, that when opened allowed three consecutive pages of illustrations to be displayed (the verso of F4, the recto F5 and the conjoined extra leaf. In our copy all 7 leaves are present (with F4 in pen), but bound in the normal manner, i.e., no folding leaf. At some point our copy was damaged and the top portion of leaf F3, and all of F4 have been provided in manuscript—the recto of F4 having text and its verso illustration; interestingly, the verso includes two small fragments from the damaged/missing leaf which are pasted on to the replacement sheet like holy relics.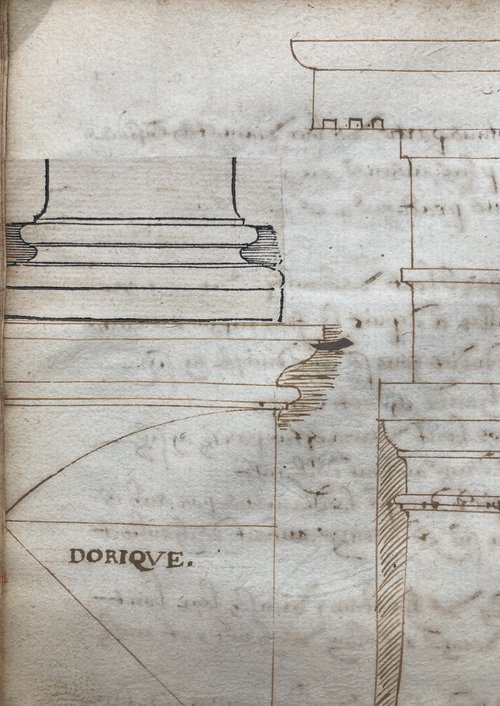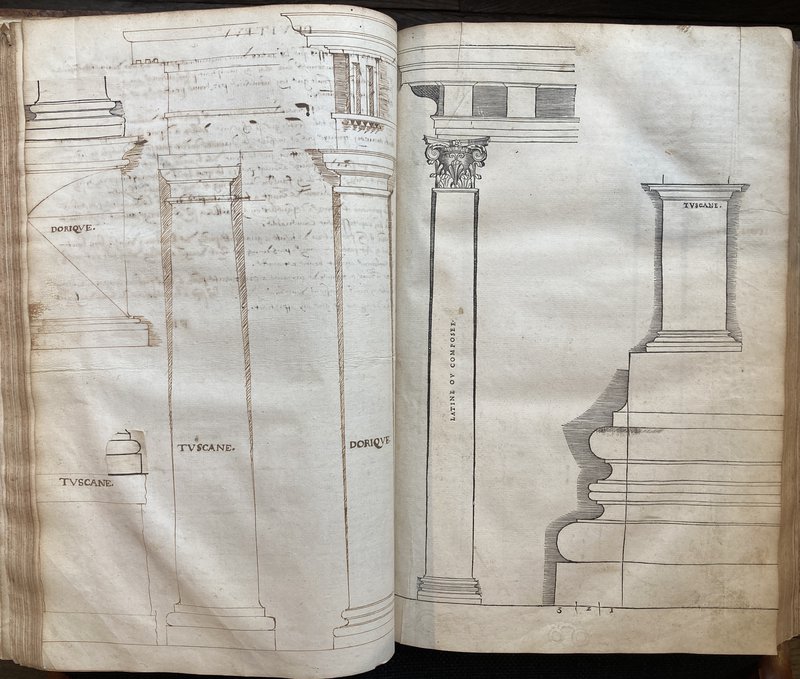 Below: 4 of the 15 full-page images from Serlio's Quinto libro