Le Magnifique Chasteau de Richelieu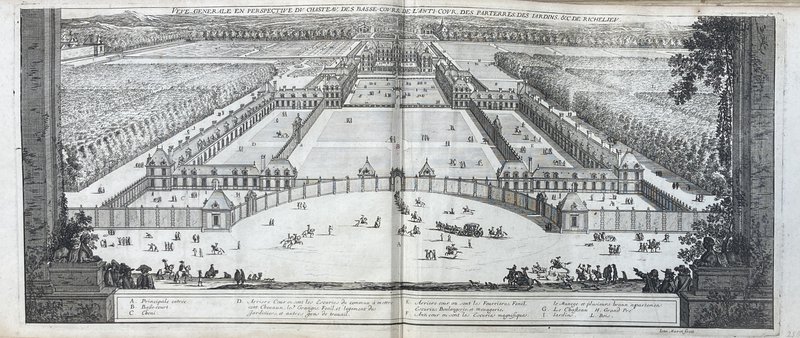 Jean Marot.
Le Magnifique Chasteau de Richelieu, en General et en Particulier, ou, les Plans, les Elevations, et Profils Generaux et Particuliers dudit Chasteau: et de ses Auenuës, Basses-courts, Anti-courts, Courts, Corps de logis, Aisles, Galleries, Escuries, Maneges, Iardins, Bois, Parc, & Generalement de tous ses Appartemens.
S.l., N.d. [after 1657] [Paris, 1660]
First edition, issue B. The engravings are signed by Jean Marot and the work dedicated by De Buisine to "Iean Armand du Plessis", i.e., the duc de Richelieu (1629-1715), the Cardinal de Richelieu's nephew.
Oblong folio. (23.5 x 34 cm page size); (23.5 x 64 cm leaf size). 22 horizontal leaves hinged on tabs at the fold. [3] leaves of printed text, 20 engraved plates on 19 leaves. Contemporary vellum over stiff boards, smooth spine with title printed in black, back cover has some spotting (ink?) and an abrasion near the foot and spine with some loss of vellum, the head of the spine has been damaged with loss of vellum (approx. 5 cm) extending to the front cover, yet the volume is sturdy. The impression of the untrimmed plates are strong, some scattered minor spotting, small dampstain to the lower outer corner of most of the leaves, one small tear to one plate running from the lower edge to the gutter, none of which affects the text or the engravings. A near fine and unsophisticated copy of a beautifully printed book with exceptionally large plates.
Description: magnifique chasteau de Richelieu.pdf